What Type of Fence Is Best for the Kansas Wind?
Ah, the Kansas wind. What other states call a gale, we consider a light breeze.
All joking aside, Kansas winds are no laughing matter when it comes to the stability and durability of your fencing. In choosing the best type of fence of the Kansas wind, there are two factors to consider: strong, rugged materials, and wind-resistant design.
Picket Fences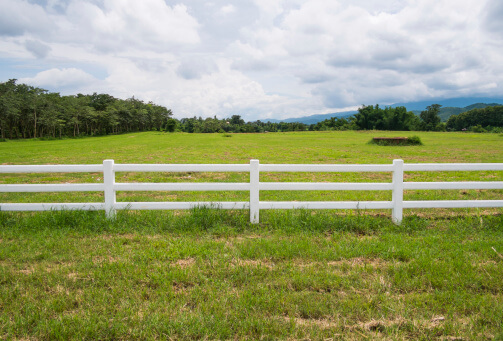 A typical picket fence, with vertical slats placed several inches apart, allows wind to blow through freely. This greatly reduces the force of the wind on the fence. However, this design does not offer much or anything in the way of privacy.
When a picket fence is designed for privacy, the space between the slats is reduced or eliminated. This impedes airflow and so lessens the fence's wind resistance. A wooden closed plank privacy fence, for example, has no airflow gaps and will bear the full force of the wind.
Steps can be taken to find a compromise between privacy and wind resistance. Using heavy duty posts, sunk deep and braced with additional crossbeams, will increase a picket fence's strength and durability against the wind.
A shadow box fence is another option. This is a type of picket fence with staggered rows of vertical slats on each side of the fence rails. The slats on one side span the gaps between the slats on the other, blocking the view through the fence. A shadow box fence provides privacy while allowing more airflow than a standard closed privacy fence.
Iron Fences
Not only do iron fences allow for plenty of airflow with their open design, they offer superior strength and long-lasting quality. A decorative wrought iron fence also considerably boosts your property's curb appeal.
Vinyl Fences
Vinyl is more flexible and is about 5 times as strong as wood, lessening the chances of it breaking in windy conditions. As an added plus, vinyl fencing is not susceptible to other destructive environmental factors like termites, rotting, warping and mold. A properly installed and reinforced vinyl fence can be a smart option for Kansas weather conditions.
Chain Link Fences
With their open design that allows airflow, properly installed and anchored chain link fences stand up very well to windy conditions. They are also one of the most affordable fencing options.
Of course, chain link fences do not offer privacy. Privacy slats can be added to a chain link fence, but this significantly increases the wind load. Additional posts will be needed to help support the fence and prevent it from blowing over.
Concrete Block Fences
While they do not provide airflow to let wind through, concrete block fences are simply strong enough to take it. A sturdy and durable concrete fence can withstand the elements, provide privacy, and also boost property values.
If you have additional questions about the best type of fence for Kansas conditions, or need fence installation or repair, give Reddi Fencing Wichita a call at (316) 858-2083. Let our fence contractors provide you with a solution that fits your needs and budget.
Resources found on our website are provided as general guidelines, and Reddi Industries does not assume any liability resulting from the provided information.