Benefits of Installing Commercial and Residential Automatic Gates
Adding an automatic gate opener to your home or business property will add value, convenience, security and more.
High Return on Investment
Installing an electric opener on your home's driveway gate will increase its aesthetics and curb appeal. With many design options available, you're sure to find a gate that will complement the landscaping an architecture of your property. Automatic gates usually increase the property value of a home and make it easier to sell. In addition, you may even get a discount on your homeowner's insurance with an automatic security gate, because the gate is a deterrent to thieves.
For commercial and industrial properties, automatic security gates will protect your company's valuable inventory and keep your staff safe, without the expense of adding 24/7 security staff. Commercial automatic gates can include razor wire, barbed wire, wire coils, or anti-climb spikes to match the rest of your company's perimeter fencing.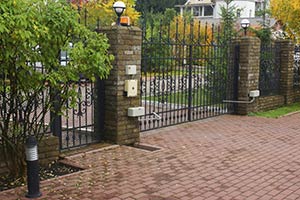 Security
The most obvious benefit of installing an automatic gate is added security, because it will deter thieves and vandals at both residential and commercial properties. In addition to preventing unauthorized access, a security gate at your home will keep pets and children safe inside your yard and away from predators or traffic.
You control who can access your property, so the only people who enter your home or business are the people you allow. Features like an intercom and security camera allow you to see who's at your gate from the safety of your home or business. Employees, guests and family members can be given access to your home or business through a keypad or card reader.
Convenience
Unlike manual gates, you can close an automatic gate remotely, so if someone forgets to close it, you can secure your property with the press of a button. By the same token, you can allow visitors to enter your home or business without walking out to the gate or leaving it open all the time. When you're driving, you don't have to get out of your car to open or close the gate, which is especially important in bad weather or when it's dark outside.
Safety
Automatic security gates are heavy, weighing as much as 20,000 pounds, and they can move as fast as 3 feet per second. That's why there are safety features included that reduce the risk of property damage or injury to your employees, family members, or pets. The Underwriters Laboratories (UL) Standard 325 requires automatic gates to have safety devices such as photoelectric sensors, audible warning devices, warning signage, contact/pressure sensors, screening, and safety cages. Depending on the application, your automatic residential or commercial gate would have some or all of these.
Aesthetics
Automatic security gates have many design options, so you can get the protection you need with the look you want. You can have a custom driveway entry that complements the rest of your property's landscaping and architecture. Custom lighting and masonry can be added to your business or home entry gate, enhancing its curb appeal and providing a welcoming feel.
Applications
Automatic gates are commonly used for restricting access to residential driveways, gated communities, airports, detention facilities, mini storage complexes, delivery docks, transportation terminals, and commercial or industrial manufacturing plants. They can be active 24/7, or just used for access control after business hours. Commercial gate openers have powerful controls to hold up to the demands of frequent use for pedestrian and vehicle traffic.
Depending on the application and the amount of space available, your home or business could have an automatic vertical pivot gate, vertical lift gate, swing gate, pedestrian swing gate, overhead slide gate, box frame roller gate, or cantilever slide gate.
Resources found on our website are provided as general guidelines, and Reddi Industries does not assume any liability resulting from the provided information.