Fences for Small Dogs
Many cities and neighborhoods have rules for fencing that can make it difficult for homeowners to secure small pets. If your HOA doesn't allow a wood privacy fence, we have a number of good options to make wrought iron, steel and aluminum fencing safe for small dogs.
Puppy Pickets
First, puppy pickets (aka puppy panels) can be added to many wrought iron fences. These extra pickets fit in between the fence's regular pickets, reducing the space between each post by half. Typically these additional pickets will be about half the height of the fence. This is an attractive option, that will prevent most small dogs from squeezing through. Most HOAs will have no issue with this option.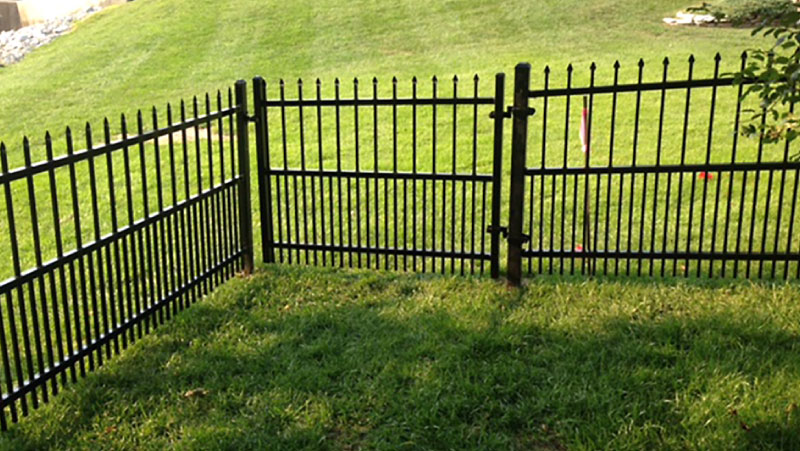 Pet Mesh for Fencing
Second, pet mesh can be installed on wrought iron or aluminum fencing to ensure your dog can't escape. Sometimes black chain link fence is used for this purpose. More often, a black plastic-like mesh material is added to the bottom part of the fence. The high of this mesh can be varied depending on your dog's height. From a distance, you won't even notice this extra layer of fencing exists.
The mesh option is inexpensive, and can easily be removed if needed. The mesh is also very durable. It is designed to withstand the harsh Kansas weather, and the abuse of large and aggressive dogs.
Fences with Narrow Openings
Third, a fence with less space between pickets will contain many small and medium sized dogs. The standard spacing between pickets on wrought iron fencing is 4 inches.
We can install fencing that has only 3 inches of space between pickets. Because there is more metal/material used, these fences are more expensive, but this permanent option is the most reliable, and it requires no maintenance.
Height Options
Most pet fences are available in a variety of heights. 3 foot, 3.5 foot, 4 foot, 5 foot and 6 foot are standard options.
If you have questions about securing your small dor, or any of our pet fence options, give us a call.