Installing a Privacy Fence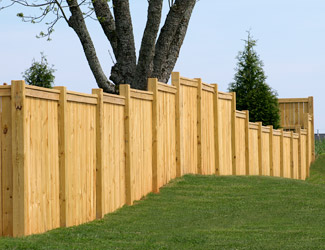 Privacy fences are a great way to give your property a fresh, new look while serving as a boundary for pets and neighbors. These fences are widely used in Kansas and need to be able to stand up to high winds and severe weather.
When considering adding a privacy fence to your property, you'll need to decide whether you need either a two-rail or a three-rail fence. The 3-rail fence will obviously cost a bit more, but when the next bout of severe weather hits the area, having the added strength and rigidity will be well worth the cost.
Another factor to consider is how high you need the fence to be. On a taller fence, you'll need to use three rails, but a shorter fence may only require two. In either case, three rails will give you more support and help keep the fence studier for longer.
Privacy Fence Maintenance
Privacy fences require minimal maintenance after installation. For various wood fencing types, cedar should last 10-15 years, pressure-treated wood should last 15-20 years and untreated rails should last 8-10 years.
Wood may warp or split over time as it dries, but applying a wood preservative will seal it and keep it from rotting. It has the same effect as using wax on a car. Sealant isn't needed if the wood has been pressure treated. Treated wood is manufactured with the preservatives necessary.
It's also important to remember to keep your sprinklers or lawn irrigation system from wetting down your privacy fence and keep bushes and vines clear of the fence as well. This will greatly slow down the rotting process of the wood. Anything that adds moisture or weight to the fence should be kept away.
If you're looking into having a privacy fence installed on your property, contact Reddi Fence today for a free consultation and find out how a privacy fence can add value and beauty to your home.
Resources found on our website are provided as general guidelines, and Reddi Industries does not assume any liability resulting from the provided information.