Benefits of Vinyl Fencing
If you want to install new or replacement fence for your home, business or rural property, consider vinyl. Made from Polyvinyl Chloride, vinyl fencing has come a long way since it was introduced in the 1980s.
Today's vinyl fences are strong, long-lasting, economical, and require little maintenance. Whether you need to create a horse corral, put up a privacy fence, or would just like a decorative fence around your garden, there are many benefits to choosing vinyl over wood, chain link or wrought iron fencing.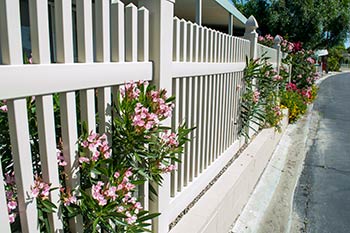 Attractive
For beauty that lasts, vinyl fencing can't be beat. It's available in a wood look, or choose one of many different colors that won't fade, chip, or peel. And, unlike a wood fence, a vinyl fence usually doesn't have visible posts and rails, so you and your neighbors can all enjoy nice-looking fencing.
Durable
Vinyl also typically outlasts wood by many years. It's not susceptible to termites, cracking, rotting, warping, mold, temperature extremes, and moisture. In Kansas, this weather resistance is a big plus for homeowners. And, unlike chain link or wrought iron, a wood fence will never rust. When it's time to replace your vinyl fence, the pieces can be recycled, making it an environmentally-friendly choice.
Strong and Flexible
Here in the Wichita area, storms and high winds are common, so vinyl is a great option. Vinyl is more flexible and is about 5 times as strong as wood, so a vinyl fence is less likely to break in windy conditions.
Low Maintenance
One of the biggest benefits of owning a vinyl fence is that it requires practically no maintenance. Instead of scraping, sanding, priming, painting or staining every couple of years like with a wood fence, a quick rinse with a hose is all it takes to keep vinyl looking great.
Easy to Install
Vinyl fencing is lighter than wood or wrought iron fencing, so it's easier to install. Many styles come in panels that can be locked together, rather than nailing or screwing one board on at a time.
Economical
Vinyl fencing costs more initially than a wood fence, but it's a better value overall because there are no maintenance costs and you can often get a lifetime warranty. Plus, you can expect to periodically replace wood boards that become warped, rotted, or get broken.
Find out how a vinyl fence could add to the beauty of your property. Call Reddi Fence at 316-858-0757 today.
Resources found on our website are provided as general guidelines, and Reddi Industries does not assume any liability resulting from the provided information.