Benefits of Vinyl Fencing
Made from Polyvinyl Chloride, vinyl fencing has come a long way since it was introduced in the 1980s. Today's vinyl fences are strong, long-lasting, economical, and require little maintenance.
Whether you need to create a horse corral, put up a privacy fence, or would just like a decorative fence around a garden, there are many benefits to choosing vinyl over wood, chain link or wrought iron fencing.
Durability
Vinyl typically outlasts wood by many years. It's not susceptible to termites, cracking, rotting, or moisture. In Kansas, this weather resistance is a big plus for homeowners. And, unlike chain link or wrought iron, a vinyl fence will never rust. When it's time to replace your vinyl fence, the pieces can be recycled, making it an environmentally-friendly option.
Here in the Wichita area, storms and high winds are common, so vinyl is a great option. Vinyl is more flexible and is about five times as strong as wood, so a vinyl fence is less likely to break in windy conditions.
Versatile Designs
For beauty that lasts, vinyl fencing can't be beat. It's available in a wood look, or choose one of many different colors that won't fade, chip, or peel. And, unlike a wood fence, a vinyl fence usually doesn't have visible posts and rails, so you and your neighbors can all enjoy nice-looking fencing.
Vinyl fences are available in a number of styles and configurations including; solid panels, pickets, lattice, horizontal rails, and more. Each option comes in different heights and colors.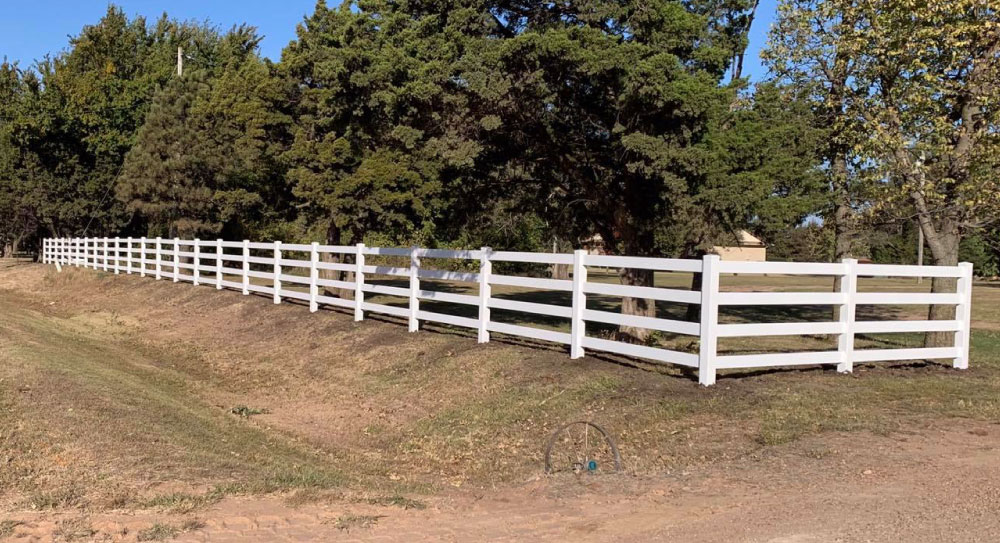 Low Maintenance
Practically no maintenance, actually. Instead of sanding, priming, painting or staining every few of years, a quick rinse with a hose or pressure washer is all it takes to keep vinyl looking great.
Easy to Install
Vinyl fencing is lighter than wood or wrought iron fencing, so it's easier to install. Many styles come in panels that can be locked together, rather than nailing or screwing one board on at a time.
Economical
Vinyl fencing is a good value due to the durability and low maintenance costs. Warranties are often quite long as well.
The Cons of Vinyl Fencing
Vinyl fencing costs more initially than a wood fence. Pricing can be prohibitive for some applications.
Because this type of fencing is essentially plastic, it can warp and damaged by the hot sun. This is not an issue in most cases, particularly with a quality product.
If you're considering a new fence and would like to chat with an expert about vinyl, or any of our other fencing options, please feel free to reach out for a free consultation.
Resources found on our website are provided as general guidelines, and Reddi does not assume any liability resulting from the provided information.